Many years have passed watching and connecting with the composer-performer of ancient Greek Lyre, Luis Paniagua, through internet. Always feeling that this is a person I would like to meet and play together, without having the slightest idea how this is going to happen, and even more how is it going to be. Easy? Difficult? Strange? 
 I was only feeling a giggle in my heart when I was listening to his music... 
A very precious friend met with him during Summer 2015, Elena-Niskriya Kazantzidi and her words for his exquisite personality dispersed my doubts, and soon we started talking about his visit in Athens. Thanks to Yiota Peklari, Flamenco dancer-choreographer and Yiannis Stathakos, lyre luthier from Xerokampe-Sparta, who both decided in a split of a second to support Luis visit, the risk of bringing a foreigner artist in the Athens of Crisis seemed becoming smaller. 
Support also was there from Themis Rodamitis, experienced festival organiser, who help us book the beautiful theater Proskinio, at Exarchia. 
The time for his arrival came.....Cannot forget the feeling that I am going to receive a very intimate friend....Meeting at the airport all, Luis, me and Elena were deeply touched...Soon in the house full of curiosity for each others lyre, having wine and playing our lyres, and though it was so late, so many things to say until early morning.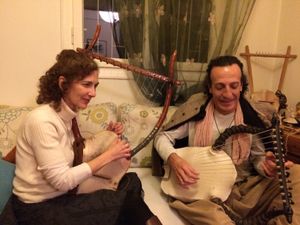 Next day we got ready for Xerokampe experience. So lucky to be Yiannis name day and be in the party that Stathakos organised. People dancing, playing music, and Luis felt like been one of us. A real Greek "glenti" fiesta, where "filoxenia" takes over and the foreigner feels as an honoured guest.  
Concert in Xerokampe next day!!! Chrysostomos Boukalis a wonderful double bass player joined his forces with us. Initially he was invited for 2-3 songs, but his musical abilities and free spirit guided him to a jump of trust into the music!!!So beautiful improvisations, so much joy!!! The three of us felt blessed and knew we had created a harmonious ambient for our audience..... 
Now, me and Luis where tuning to each other deeper and the joy, playfulness and cracks of laughter where there all the time...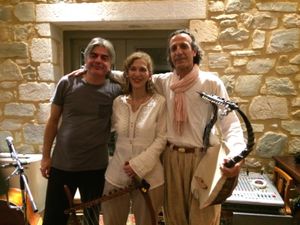 Like children creating a sand tower.....The wind blows and the tower falls, but the joy of creating together remains in the heart. 
Back to Athens, the days to follow where blessed with playful spirit. Recording to SAE with Ismene Petridou, rehearsing with Irene Anastasiou-cello, Lukia Konstantatou-kanun and Yiota Peklari-dance, visiting Delphi, Acropolis, Ancient Agora along with the dear friend Niskriya, who was next to us all the time taking care for photos and videos, co-creating a beautiful reality.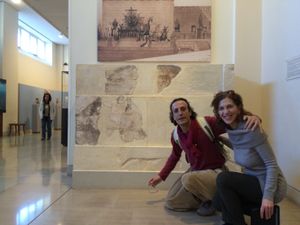 Concert at Proskinio. Full theater, full heart, beautiful sound from Kostas Baboulas. First part Luis compositions, transmitting his love for nature, waters, winds and simplicity....Many people said that the perfect place for his music is in nature.  
Second part my compositions. With the improvisations of Luis, Chrysostomos, Irene and Lukia sounded to my ears like new pieces. For the end Yiotas Flamenco choreography on the Hymn to the Muse.....I could see a Minoan woman dancing a sacred dance.....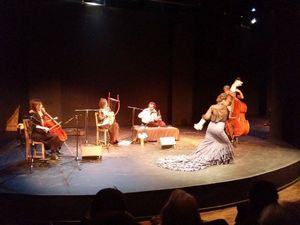 Next day was the Solo Luis Paniagua concert at Playground. The wind blowing the trees, was perfectly matching with Luis music. Meditative energy and relaxation.... 
Meeting with Lyre friends. On the last afternoon of Luis visit in Athens of crisis, a unique meeting happened. Dr.Nikos Xanthoulis (musicologist, composer, orchestra director, trumpeter) invited us to his house to share our lyre passion with him and Dr. Chrestos Terzes (archeo musicologist, reconstructions of ancient Greek instruments). What a meeting!!! Each one of us uses a different technique and scales. Feeling equal, respecting the deep knowledge of Dr. Terzes and the master plectrum technique of Dr. Xanthoulis, we enjoyed playing ancient fragments and a long improvisation......Each one brings different aspects, and combining our efforts for Lyre to be re-established in the musical pantheon of Greek instruments can be fruitful in the future.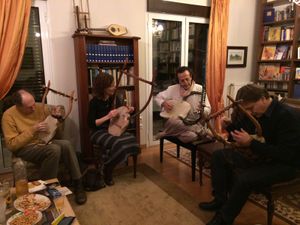 Athens of Crisis has many beautiful individuals who work with passion on arts and science, creating an underground flow for prosperity and culture.... 
Many thanks to Debop and Eleftheria Pantziou for communicating with the public, Embassy news, National Radio 3rd Programme, Meet Culture, In.gr,  Elculture, Magenta shops, Codestag, Prismart.co and all who supported this meeting.